Oxfam calls for renewable energy shift in Philippines following release of new climate change report
Oxfam Pilipinas on Tuesday urged the Philippine government to shift heavily towards the use of renewable energy as the latest Intergovernmental Panel on Climate Change (IPCC) report was released last night.
"The latest IPCC report on climate change mitigation just goes to show that even countries with low greenhouse gas emission contributions should be shutting down their coal-fired power plants and focusing instead on cleaner sources of energy such as renewable energy," said Oxfam Pilipinas Country Director Lot Felizco.
The IPCC report is a regular assessment report released every six to seven years based on the work of thousands of scientists from all over the world. The previous reports have made it clear that the ongoing climate change is caused by human activity, especially the burning of fossil fuels. The IPCC, in a press release for the "Climate Change 2022: Mitigation of climate change" report, mentioned the continued decrease in the cost of solar and wind energy, and batteries.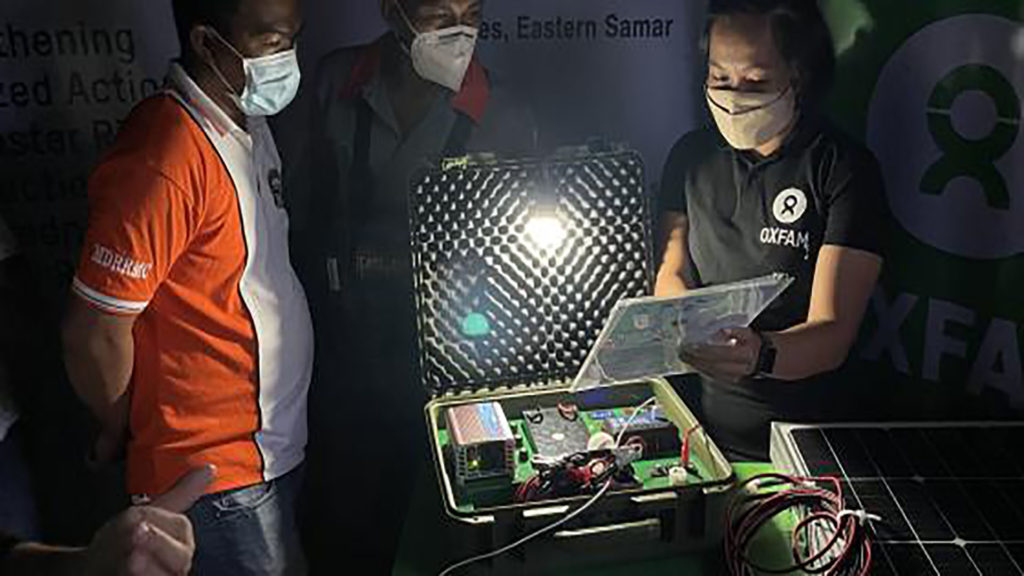 "Besides being detrimental to the environment, fossil fuels have further burdened Filipinos with high gas prices and power outages," Felizco said. "Experts of our partner organization Institute for Climate Sustainable Cities recently pointed out frequent outages of large coal power plants, which have also caused electricity costs to increase. We agree with their argument that to make the power sector truly competitive, there should be enough support for renewable energy."
"Shifting to renewable energy is a win-win situation for the Philippines as we will finally be free from costly fossil fuel power plants. It has been shown that renewable energy is cheaper in the long-run, especially for resource-rich countries like the Philippines. We will also be able to do our part to address climate change as it becomes more urgent to reduce the global levels of carbon emissions," she added.
Oxfam International's Climate Policy Lead Nafkote Dabi said the IPCC's Working Group III report on climate change mitigation "pulls no punches:"
"The bleak and brutal truth about global warming is this: barring action on a sweeping scale, humanity faces worsening hunger, disease, economic collapse, mass migration of people and unbearable heat. It's not about taking our foot off the accelerator anymore —it's about slamming on the brakes. A warming planet is humanity's biggest emergency.
"No amount of adaptation can compensate for the terrible consequences of failing to hit the Paris goal of limiting warming to 1.5°C. This is a survival target and it remains within our grasp, but just barely. After a dip in 2020, carbon emissions that fuel climate change have bounced back to pre-pandemic levels. We need extraordinary cuts in the use of fossil fuels to meet our emissions targets, and that entails a dramatic shift towards sustainable renewable energy. The recent push to increase production of oil, gas and coal and backtrack on climate measures because of the crisis in Ukraine —and even to delay net-zero—is short-sighted folly," Dabi said.
In 2018, the IPCC released a special report explaining that global warming should be kept within 1.5 degrees Celsius above pre-industrial levels. Scientists warned that going beyond could result in severe climate change effects such as heavier rainfall and flooding, more intense droughts, lost animal habitats and species.
DEATH SENTENCE
In 2021, the World Meteorological Organization (WMO) Atlas of Mortality and Economic Losses from Weather, Climate and Water Extremes reported that from 1970 to 2019, 75% of deaths caused by weather, climate and water hazards in the Southwest Pacific region were from the Philippines.
"We do not want to know how much more lives could be lost if the climate change crisis worsens," Felizco said.
Meanwhile, Dabi said, "Climate change is causing extreme weather disasters now and their costs are piling up. But these costs do not hit everyone equally. People living in poverty are suffering first and worst. Farmers in Kenya, Ethiopia and Somalia have lost crops and entire herds of livestock to an exceptionally long and severe drought. Millions of people in East Africa are now on the brink of a hunger catastrophe. Meanwhile the richest people who have massive carbon footprints are turning up the air-conditioning on their mega yachts."
"The other clear message from this report is that every single action to cut emissions counts and every fraction of a degree matters. The world is currently heading for 2.7°C of warming under current plans. That is a death sentence for climate-vulnerable countries like Vanuatu and Bangladesh. Wealthy countries are disproportionately responsible for the climate crisis and they have the double responsibility to both cut emissions at home and to support developing countries with the costs of replanting crops and rebuilding homes after storms, and moving from dirty energy forms to cleaner, lower-carbon ones," she added.
"This monumental climate report is distressing but it is not surprising. Scientists and the IPCC have been warning governments of this danger for decades. Our future lies in the decisions we make today. We cannot tackle climate change later. We must clamp down on emissions now or face more catastrophic climate disasters, season after season," Dabi said.
---
Contact information:
FOR MEDIA INQUIRIES AND COORDINATION:
Kristine Sabillo Guerrero | Senior Officer for Media and Digital Influencing, Oxfam Pilipinas
Email: kGuerrero@oxfam.org.uk