Communal comfort rooms: Protecting human dignity and promoting women's safety
Residents of a relocation site at the outskirt of Dolores town in Eastern Samar province waited years for their dream to have a well-constructed and clean communal toilet to become a reality.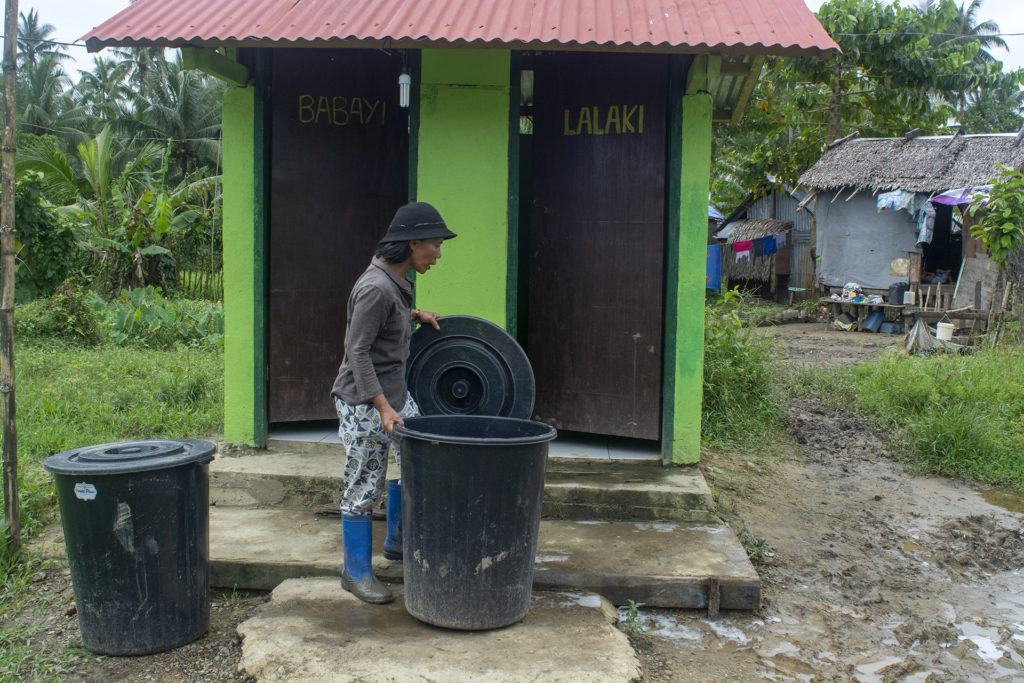 Until less than a year ago, many villagers had no option but to take a lengthy walk to a field to urinate and defecate—usually done before or after sunrise to have a bit of privacy.
Ma. Merly Cesista, a barangay health worker of Dapdap, said it was not always a surprise for them to see human feces on the streets.
Apart from the lack of a proper toilet system, health workers are concerned about the poor hygiene practices among the residents.
But the impact goes well beyond poor health. Cesista said the lack of toilets also forces girls and women to go out at night despite the risks to their safety.
"Many families here have been struggling with the lack of access to toilets, with women and children bearing the brunt of consequences," she said
The relocation site is home to about a hundred families, usually living in tiny houses made of nipa, bamboo, and light materials.
They had lived near the village's coastline until typhoon Hagupit (local name: Ruby), battered the province and destroyed their homes in November 2014.
A Japan-based humanitarian agency bought them a parcel of land and provided some materials to rebuild their houses.
However, due to a lack of resources and a limited capacity, several families do not have the needed facilities, such as comfort rooms.
"My family even had to borrow money just to build a toilet at home," Cesista recalled. "Sadly, many households still can't afford to have their toilets until now."
Like most residents, Cecista's family suffers from poverty and relies only on farming as a source of income.
To improve the community's access to adequate sanitation, Oxfam Pilipinas constructed toilets for men and women. It also comes with a standard septic tank for proper waste management.
The project is part of Oxfam Pilipinas' Strengthening Harmonized Action for Disaster Risk Reduction, Preparedness, and Early Recovery (SHARPER) initiative. The project is in partnership with Sentro para sa Ikauunlad ng Katutubong Agham at Teknolohiya (SIKAT) Inc.
The project aims to ensure that communities affected by recurrent disasters in highly vulnerable areas, specifically in the provinces of Eastern Samar and Catanduanes, have enhanced capacities for disaster preparedness, response and recovery.
Dolores, Eastern Samar is a coastal area hit by typhoon Hagupit (local name: Ruby) in 2014 and typhoon Vonfong (local name: Ambo) in May 2020.
Dolores Municipal Disaster Risk Reduction and Management Office (MDRRMO) head Manuel Catuday said they will always be grateful to be part of the project.
"The initiative of Oxfam Pilipinas and SIKAT is holistic and capacitates the barangays. We really need to empower the barangays," Catuday said.
"We also hope to maximize this partnership to enhance our disaster risk reduction capabilities," he stressed.
Three months after building the communal toilet, Cesista said conditions have improved for much of the community.
Today, they proudly show their cleaner community to visitors. They report fewer problems with sanitation and hygiene.
Cesista said the shared toilets are regularly cleaned and maintained by the residents. They ensure the safety and dignity of each community member, particularly girls and women.
"Toilets are an essential part of overcoming the sanitation challenge," Cesista said. "We sought help, and we are very thankful for Oxfam Pilipinas and SIKAT's quick response."
---