Davao coffee shop helps lift farmers out of poverty
Blog post by Kristine Sabillo More from Kristine Sabillo

DAVAO CITY — Marivic and Joe Randy Dubria live in a farming village in Bansalan, Davao del Sur, at the foothills of the Mt. Apo, the highest mountain in the Philippines.
The couple worked hard but they struggled to make ends meet. Vegetable farming brought little income while Marivic's take home pay as a day care teacher was only P1,500 a month a decade ago.
"Kami ay 4Ps (Pantawid Pamilyang Pilipino Program) beneficiary noon. Di umaabot ng P5,000 per month ang income namin. During that time ang hirap na maging 4Ps," a teary-eyed Marivic recalled.
(Our family used to be a 4Ps beneficiary. This is for families whose monthly income is below P5,000. At that time, it was so challenging to be a beneficiary.)



Marivic said their neighbors looked down on them for relying on government aid allocated for the poorest in their community. She said they had to endure insults whenever they would line up at the bank alongside other poor families.
Their life started to change with the intervention of government and non-profit groups that aimed to reintroduce plant life in their area after over-logging left the hills denuded.
Marivic quit her job so she can attend trainings for farmers while Joe Randy focused on tending to their land.
It was during one of those trainings that Marivic met Joji Pantoja, founder of the social enterprise Coffee for Peace.
Joji told Marivic and her fellow farmers, "May pera sa kape (There is money in farming coffee)."
"Parang ako noon ang hirap makapaniwala na ganun (At that time, I could not believe that)," Marivic recalled.
REACHING POTENTIALS
To show the potential of coffee farming, Joji would buy the coffee cherries or the fruits of the coffee plant from the farmers.
"Dinala din nila kaming farmers sa Davao City para makita namin paano nila pinoprocess. Ako naman curious ako sa quality. Pagdating ko dito (sa farm) ginawa ko iyon," she said.
(They brought us farmers to Davao City so we can learn how they process coffee beans. I was curious about coffee quality so when I got home, I tried to replicate it.)
Through trainings done by Coffee for Peace, Marivic and other farmers learned how to properly care for their coffee plants, how to sort coffee cherries and how to better process them to yield world-class coffee beans.


They also appreciated their harvest more. Joji was surprised when she first visited the farmers because they would serve her 3-in-1 or instant coffee, thinking that it was superior. Coffee for Peace taught them that local coffee actually tasted better and that drinking their own coffee would save them a lot of money.
With the help of her local farmers' cooperative, Marivic was also able to get a loan from the bank and buy her own roasting machine. This saved her a lot of time and allowed her to produce coffee beans in bulk.
It was a gamble that paid off.
Coffee for Peace also introduced the farmers to other businesses, allowing them to sell their specialty coffee cherries to foreign buyers.
From producing coffee fruits that sold only for P80 to P90 per kilo, Marivic and her husband were able to sell coffee beans at more than P250 per kilo. The best of her processed beans have been sold at more than P2,500 per kilo at an auction.
"Tinuturuan din kami how to cost. Kulang sa amin financial literacy, paano ihandle yung pera na kinikita namin (kaya iyon tinuturo rin sa amin)," Marivic said of the trainings.
(We are also taught how to do costing. We do not know much about financial literacy, how to handle our money so we were also taught that.)
This helped them break free from the clutches of local traders who controlled the selling price of both farming inputs and harvests. They were also able to rise above the poverty threshold and have enough money to put their kids through school and even renovate their home.
Marivic said she is grateful for Joji and Coffee for Peace for teaching them to deal with buyers and to be empowered women who are not afraid to venture on their own.
COFFEE FOR PEACE
Joji and her husband Mennonite minister Luis Daniel "Lakan Pantoja returned to the Philippines in 2006 after two decades of mission work in Canada. They founded Coffee for Peace as a social enterprise that not only showcased the quality of Filipino coffee but also promoted peace in the conflict-ridden region.
While Joji's husband led their non-profit organization PeaceBuilders Community, Inc. in teaching communities in Mindanao the importance of peace and reconciliation, Joji used her hotel and restaurant management degree to start Coffee for Peace as an income-generating project following the social entrepreneurship model.
Gomer Padong, secretariat lead of the Poverty Reduction through Social Entrepreneurship (PRESENT) Coalition of which Coffee for Peace is also a member, explained that while social enterprises also aim to generate income like traditional businesses, they are social mission driven towards "improving societal well-being as well as contribute to ecological sustainability." In the case of Coffee for Peace, their mission is to help farmers, preserve the environment and promote peace.
"The philosophy of social enterprises is 'distributive,' which is different from traditional enterprises that are 'accumulative,'" Gomer said.
He explained that the profit from social enterprises is meant to trickle down to their primary stakeholders, "which are basically the poor and marginalized." Any money retained by the business is re-invested to increase the impact and scale of the social enterprise.
Joji and her husband settled in Mindanao amid the then intense conflict between government forces and a separatist movement.
"At the start, I was afraid kasi nga yung reputation ng Mindanao as magulo. Pupunta ba ako sa gulo eh ang saya-saya na ng buhay ko sa Vancouver? (I was afraid because of Mindanao's reputation of being in disarray. Why would I go to a place of conflict when I lived a happy life in Vancouver, Canada?)," Joji recalled.
But Joji said they eventually heeded "their calling."


As peace builders, they sought to find a way to help broker peace or at least halt the violence that had caused loss of lives, livelihood and shelter for many families in Mindanao.
"Lagi kami sa displaced area (bringing assistance). Tinanong ko yung isang babae na manganganak how do you feel? Sabi nya, 'Alam mo ma'am yung lola ko ipinanganak ang nanay ko dito sa displaced area. Yung nanay ko ipinanganak ako dito. Ngayon mangaganak ako dito na naman. Di na natatapos ang gera dito,'" Joji recalled.
(We were always in the evacuation camps bringing assistance. One time I asked this woman who was about to give birth how she felt about the conflict. She said, 'You know my grandmother gave birth to my mother in this evacuation center. My mother gave birth to me here. And now I will give birth as a displaced person. The war never ends here.)
At one point, they set up "Peace Houses" – six nipa huts in Cotabato where they and other peace workers invited the military and the rebel groups to meet and discuss cessation of hostilities.
"Bawal ang baril," Joji recalled. "Kape lang ang pwede doon. Habang nagse-serve kami ng kape nagda-dialogue. Simula nun bumaba yung skirmishes, yung putukan,"
(Guns were not allowed there. Only coffee was allowed. And while we served coffee, they proceeded with the dialogue. As that went on, we saw fewer skirmishes and gunfights.)
"Yun ang naging inspiration ko (That was my inspiration) — coffee for peace. I want to use coffee as a medium or vehicle to propagate the mission of peace," she said.
Her coffee shop was especially designed to showcase the beauty of Mindanao and tribal art while exuding a peaceful ambience to help her loyal patrons feel relaxed.
Soon, Joji discovered that there were many untapped coffee farming communities in Mindanao, many of them indigenous peoples groups who were growing sought-after arabica coffee. Her contacts in Canada confirmed that what they had was specialty or high-quality coffee coffee.
What started out as a coffee business meant to support peace-building activities, soon became a training ground for farmers and young coffee entrepreneurs. And their mission expanded to increasing local supply and demand for Philippine-grown coffee amid the practice of importation of popular coffee shops.

TRAINING SOCIAL ENTREPRENEURS
Around a decade after she first encountered Coffee for Peace, Marivic now sells her own brand of coffee beans called "Marivica." She even started selling it to other establishments.
"Marivica" already won in various coffee competitions for its great quality. In 2019, it won first place in the Philippine Coffee Quality Competition (PCQC) held in Boston, United States.
Now, Marivic has taken on the role of trainer, teaching fellow farmers how to improve their harvest and how to produce quality coffee beans. She is even invited by government agencies to attend international events to represent Filipino coffee farmers.

While there is no more armed conflict in the area, the peace and reconciliation trainings of Coffee for Peace's partner non-profit organization PeaceBuilders Community still comes in handy when resolving conflicts among the farmers or the cooperatives. Also helpful are the leadership trainings offered in tandem with peace building.
Coffee for Peace's mission extends not just to farmers but also its own workers.
Besides continuing to seek out and train farmers, many of them from indigenous peoples groups, Joji has also been training their baristas to become entrepreneurs. They help enroll them in baking classes and other workshops.
"Ang dream ko for them to own their own coffee shop (My dream is for them to own their own coffee shop," Joji said, adding that Coffee for Peace also serves as a "laboratory" for entrepreneurship.
At Coffee for Peace's new kiosk at a nearby mall, Joji has been teaching barista Joanna Mae Lozada learn the ins and outs of the business. Joanna loves coffee but had zero knowledge about being a barista when she applied for the post 3 years ago.
Joanna said she just persevered and took every opportunity to be trained. The 34-year-old mother said she decided to enter the work force because she wanted to help her husband, who is a health care worker, send their three children to school.
"Masaya at saka marami akong natutunan…paano makipaghalubilo sa mga tao, i-entertain ang customers, at magserve ng [masarap] na coffee sa kanila," she said when asked about her experience with Coffee for Peace.
(I've been very happy because I learned a lot — how to interact with people, entertain customers and serve good coffee.)

Joji proudly shared how Joanna decided to set up her own coffee pop-up store using a mobile cart. It was part of Coffee for Peace's model to introduce local coffee to the public and to help young entrepreneurs start their first business.
Unfortunately, with the country still reeling from the effects of the COVID-19 pandemic, Joanna ended up closing up shop. Joji gladly gave her old job back.
Now, Joanna helps man Coffee for Peace's new branch in Abreeza Mall in Davao City, which the mall rents out for free to social entrepreneurs like Joji.
In the meantime, Joanna uses her time as a barista to save up and learn more before re-starting her coffee business.
"Gusto ko madevelop pa po yung skills ko, more improvement and to manage more," she said.
(I want to develop my skills, improve more and learn how to manage.)
Her wish is for Filipinos to appreciate local coffee instead of patronizing foreign branded coffee shops that mostly import.
"Sana po suportahan nila ang local farmers kasi po at first alam naman po natin na…makakatulong tayo na mabigyan sila ng kanilang pangangailangan," she said, adding that local entrepreneurs will also benefit.
(I hope the public supports local farmers because first of all we already know that this will help farmers earn enough to for their necessities.)


MORE WORK NEEDED
Among Coffee for Peace's new trainees are members of the Bagobo Tagabawa tribe, who were the original settlers in Bansalan, Davao del Sur before they were driven out of their land due to illegal logging.
Bai Baby Jerlina Owok, chieftain of the tribe that is now settled in Rano, Digos City, Davao del Sur, said that while they had been known for so long as heavy coffee drinkers, they did not really take coffee production seriously until they were trained by Coffee for Peace and other groups.
Like Marivic, they were told that there is money in coffee.
"Nakasama ako sa iba't ibang trainings at seminars. Doon ko nalaman na yung kape pala globally in-demand. Doon ko nalaman dapat alagaan natin ang kape natin kasi may pera sa kape," Bai Baby said. (Bai is an honorific title given to women of stature in the tribe.)
(I joined different trainings and seminars. It's only then that I learned that coffee is globally in-demand. It was only then that I realized we need to care for our coffee because we can earn from it.)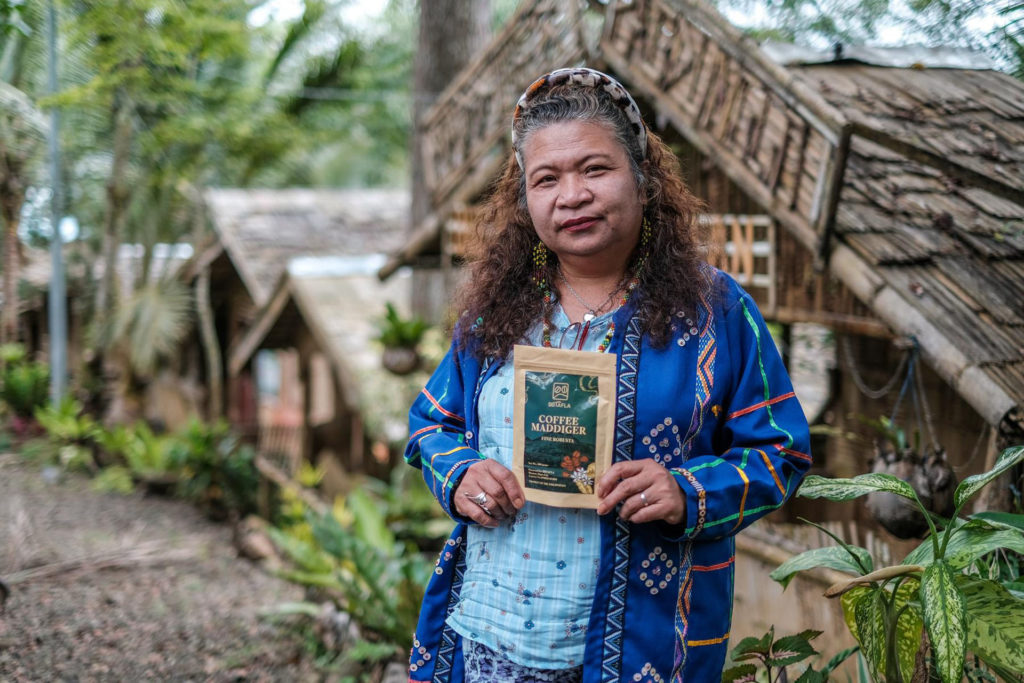 They used to sell their robusta coffee cherries at P60 to P70 per kilo to buyers who only wanted to get the cheapest harvest.
Bai Baby said once they learned how to sort and pick the best coffee cherries and process them into coffee beans, they were able to sell at P150 per kilo.
There is much demand now for the Bagobo Tagabawa's coffee, with some local restaurants offering their coffee to customers. However, because the processing is manually down, it's been difficult for the tribe's cooperative to scale up. Even Coffee for Peace can no longer source from them since they agreed to prioritize the local establishments.
For now, the tribe is working towards setting up a store and investing in machinery that will help them scale up their operations.
Joji thinks she needs a total of 25 years for Coffee for Peace to achieve its goals.
"It's a journey. Working with a community it's not a one-year, two-year [endeavor]. It's a commitment. Ang tingin ko dito ay 25 years (I think 25 years total)," she said.
Joji hopes that in several years, they'll be able to help lift more farmers out of poverty and train them to be self-sufficient, just like Marivic who found her breakthrough after almost a decade. The dream is for those farmers to take on the advocacy and pass on their learnings to the next generation.
Coffee for Peace is also already working to help more home-grown coffee shops to succeed and create a bigger demand for local coffee in the Philippines and abroad.


SOCIAL ENTERPRISE BILL
Gomer of the PRESENT Coalition said this is why it's important to have a legal framework that will support social enterprises to flourish.
Currently, the PRESENT Coalition and its members, including Coffee for Peace, are pushing for the passage of a social enterprise bill. Several versions of it have already been filed in Congress.
The campaign for the so-called Poverty Reduction through Social Entrepreneurship (PRESENT) Bill is part of The Gender Transformative and Responsible Agribusiness Investments in South East Asia (GRAISEA) program, of which Oxfam Pilipinas and the PRESENT Coalition are a part of.
"These social enterprises, they introduce basic and appropriate technologies to far-flung communities, like community-based roasting facilities. It seems simple but many are able to produce globally competitive products because of this," Gomer said.
"The nature of the business is that there is a mission. Hindi ba dapat mas suportahan sya ng gobyerno? Itong ginagawa ng social enterprises dapat ginagawa din ng gobyerno pero ine-extend ng social enterprises as part of their business (Shouldn't government support this? Social enterprises are doing services that is should be done by the government and yet they extend it as part of their businesses)," he added.
Gomer explained that the "hybrid nature" of social enterprises are also important to look at. He said that while micro, small and medium enterprises are already struggling to keep their business afloat, it is even more challenging for social enterprise who have to balance their "triple bottom-lines" of "people, profit and planet."



The additional incentives such as tax credits stated in the bill should encourage more people to start and expand social enterprises, especially since it helps the country address poverty and achieve the Sustainable Development Goals of of zero poverty, no hunger, reduced inequality, women's economic empowerment, and building resilient and sustainable communities.
Gomer said the enactment of a social enterprise law can bring about many opportunities, including possible preferential treatment in government procurement for these social mission driven organizations. They can also be suppliers of choice by corporations wanting to make an impact on society.
To ensure that the law won't be abused if it gets passed, there will be safeguards in the provisions. For a social enterprise organized as stock corporation, partnership or sole proprietorship, at least 60% of net revenues should be reinvested in the social enterprise to sustain fulfillment of its social mission, including the provision of transformational services for the well-being of marginalized sectors they serve. There will also be a qualification process for social enterprises who want to avail of government support and incentives. There will also be a development council consisting of various government agencies and representatives of social enterprises to ensure that they get representation and adequate support.
But most of all, the bill focuses on the important role of social enterprises in the nation's poverty reduction efforts. Proponents of the bill point out that it's not a magna carta for social enterprises since the main beneficiaries will be the poor and marginalized sectors.
"Poverty reduction on a grand scale is our intended impact," Gomer said, adding that other support programs will include development grants, non-collateralized loans and a comprehensive insurance system. These are intended to help social enterprises amid the many disasters and the effects of climate change that the Philippines is expected to experience in the coming years.
And in times of calamities or crises like the COVID-19 pandemic, Gomer said, having the government's support is important.
There were around 164,000 social enterprises (or more than 15% of all businesses in the country) before the COVID-19 pandemic, according to a study by the Philippine Social Enterprise Network and the British Council, supported by the United Nations Economic and Social Commission for Asia and the Pacific. But in 2020, a follow-up study of the Institute for Social Entrepreneurship in Asia, supported by Oxfam Pilipinas, showed that 55% of social enterprises experienced major downturns; 41% experienced some setbacks, and only 4% reported any positive impact during the pandemic.
"I think with sustained government support, their numbers will increase more," Gomer said.



For now, social enterprises like Coffee for Peace will have to rely on their own networks and resourcefulness to bring about change in the rural communities they operate in.
"Next project for Coffee for Peace: to popularize local coffee drinking," Joji said. From drinking 3-in-1 coffee, Marivic has now graduated to selling specialty coffee to her Japanese buyers at more than P1,000 per kilo.
The challenge now, Joji said, is to make Filipinos realize that we have high-quality and delicious coffee in their own backyard. #
---
This article is originally written by Kristine Sabillo for Inquirer.net, 24 October 2022: https://business.inquirer.net/369099/davao-coffee-shop-helps-lift-farmers-out-of-poverty